Repair of old sewing machines
Don't throw away your old sewing machine!
It is better than you think.
Don't throw away your old sewing machine!
It is better than you think.
The old sewing machines are designed to last for generations!
Now they no longer make machines of that quality.
Even if it just sews backwards, starts to go by itself, smells burned, the zig-sac seam doesn't work, or the buttons are almost impossible to turn, there is hope. It is often only small things that create the problems, and in a very large part of these cases it is only a regular service that is needed to make it as new. Since the quality is so good, many people want to keep these machines. Therefore, spare parts are still made if needed. I'm sitting with parts for BERNINA from the 60s, and Husqvarna machines from the 50s onwards.
There is hope!
BERNINA 730 from 1967
Service and Repair
Authorized service workshop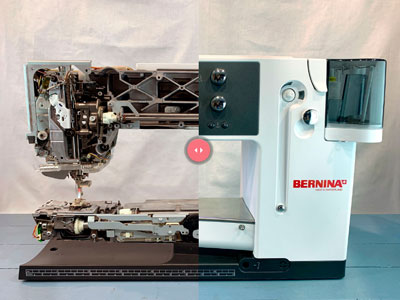 Authorized service workshop
Do you have a new embroidery machine, an older vintage sewing machine, or an overlock machine that needs service or repair?
Service at an authorised workshop is a certainty to you that the machine is well cared for and the job is carried out correctly according to manufacturer's guidelines. The workshop complies with the requirements to prevent static electricity from damaging the sewing machines' electronics. Necessary courses and my background as a computer/network technician, certificates as a service electronics and education in mechanics, give me good knowledge in the face of these advanced sewing machines.
What happens to a service?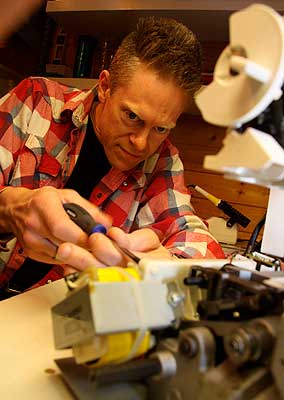 "About Me"
Theodor Bastberget
I have worked as a computer/network technician for 16 years, been a developer, technical manager, operations technician and trainer. Has a degree in mechanics and electronics, has a certificate as a service electrician and has worked as a radio tv repairman.
I am authorized on Bernina (incl. the new 800 series), Brother, BabyLock, Janome, elna, JUKI, Husqvarna and PFAFF. Good expertise in overlock and cover machines.
At syakademiet.no I have made the courses on basic operation and use of overlock and sewing machine.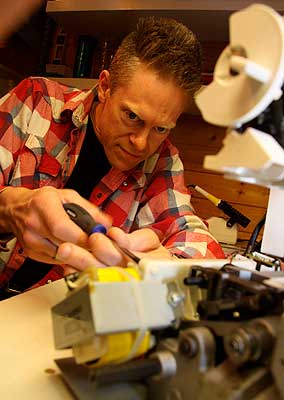 My motto:
"Anything is possible, the impossible only takes a little longer."
---
---
Why repair?
In 2019, the world used renewable resources equivalent to 1.7 globes. So you can see this is not going so well. I feel I have a responsibility to do what I can to contribute.
Another thing is the individual machines. The old machines, as mentioned before, are designed to last for generations, which the modern machines are not. To hear about all the incredibly good machines thrown away, because you did not think they could be repaired, is incredibly sad. One thing is the need for a working sewing machine, another thing is that emotions often lie in the old machines. There are machines you have inherited, received as a birthday gift or wedding gift, and you have a relationship with. It is not "just a sewing machine" it is history! This also gives me an extra boost to get the machines repaired
More Information:


100% satisfied guarantee
I want you to be satisfied and get the most out of your machine. When I hand out the machines again, I often give advice and tips on their use and maintenance. Should there be anything about the machine you are not completely satisfied with, of course I would like to have it corrected.
Some of my customers
NationalTheatret
Bernina sewing machines
The Norwegian Opera
Bernina sewing machines
Deichman Bjørvika
Bernina sewing machines
Question & Answer
If you do not get answers to your questions here, send me an email: post@syrep.no
Miscellaneous images
Dust in sewingmachines
Dust in overlockMachines
Threads
The workshop
Address
Rælingsveien 21, 2010 Strømmen
Get/Ship
Tuesday - Thursday, noon - 6 p.m.
Few minutes from Oslo
More Accurate; in Rælingsveien 21 at Strømmen, about 900m away from Strømmen Storsenter.
Too far to drive?
Sending your sewing machine is not a problem. The payment including the return shipping can be paid easily with e.g. Vipps. NB! Please contact me first for appointment/information.
Contact Info
AddressRælingsveien 21, 2010 Strømmen
Get/ShipTuesday - Thursday, noon - 6 p.m.
SyRep
SyRep is part of the Syakademiet as. Syakademiet (The Sewing Academy) was established in 2012 to offer sewing courses, creative events and sewing machine service. From autumn 2017, Syakademiet switched to online sewing courses. SyRep is a warranty workshop taking BERNINA and Bernette sewing machines for Stoff&Stil Norway.
Rælingsveien 21
2010 Strømmen
tirsdag - torsdag
kl 12 - 18